Get 25% off your whole order. Discount applied at checkout.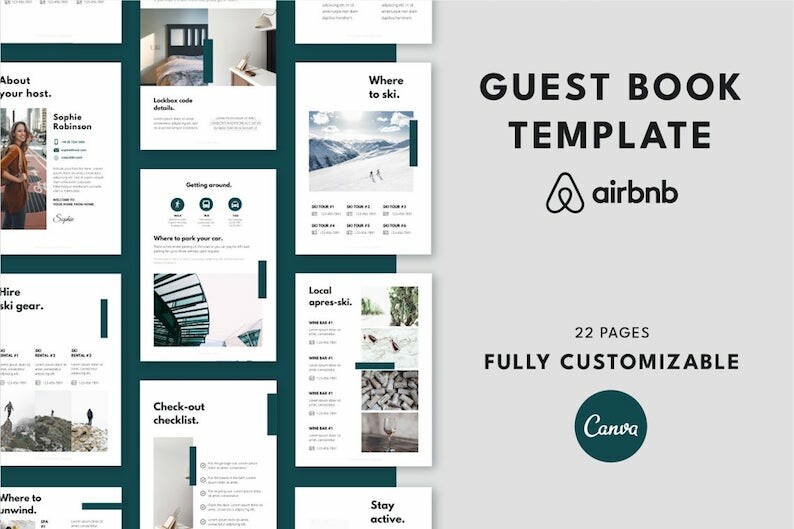 Airbnb House Manual Template
Get 25% off your whole order. Discount applied at checkout.
This Airbnb House Manual Template is designed to be easily edited and customised by anyone. No design experience is needed. The template is free to edit in Canva.
Airbnb House Manual Template
✅ Easy to edit in a FREE Canva account
✅ Ready-made template
✅ Fully customizable
✅ No design experience needed
✅ Print in minutes
Just THREE SIMPLE STEPS to Create Your Professional Airbnb Guest Book:
1. Receive a PDF with a link to the template.
2. Edit the template in a FREE Canva account.
3. Save and print.
What are the benefits of this Airbnb House Manual Template?
✅ Save time and money
✅ Looks professional
✅ Gives your customers all the information they need
✅ Delete the pages you don't need
✅ Duplicate the pages you love
✅ 22 pages of content including House rules, WiFi details, check-out checklist, and much more.
Looking for other Airbnb Templates & Printables?
Or visit the full Airbnb Welcome Book Template store.
The importance of Airbnb house manual template
Everyone knows the importance of first impressions. When you're an Airbnb host, a customer's first impression can make or break their experience.
A good quality Airbnb house manual template can be a great way to greet your guests. It gives them all the information they need in a beautiful, user-friendly booklet, immediately after they walk through the door.
A well-written guide tells your customers what they can and can't do when staying at your Airbnb or vacation rental. It allows them to have a smooth experience from the get-go and with clearly defined House Rules, it also encourages them to respect the guidelines.
All of this equates to happy customers and ideally a 5-star review.
While you likely already know the importance of an Airbnb House Manual Template. However, the thought of putting together a professional-looking brochure may sound expensive or time-consuming, it's not.
We've done the hard work for you! Our Airbnb house manual template is designed to be easily edited, customized and printed from your computer. Eliminating the need for costly design work or waste time spent formatting, hunting for images, and so on.
We've created a ready-to-use Airbnb house manual template that includes all the sections your guests need. All you need to do is add your images, update any text, save, and print.
The process takes minutes from start to finish and can be done on any computer with free online tools.
Sound easy? It is.
10 tips to writing the perfect Airbnb house manual template:
1. Say hello!
The first page of your Airbnb House Manual Template should offer a brief, friendly welcome message. Only one or two paragraphs, welcoming the visitor, along with a photo of you, the host.
2. Contact details
Your contact details should be included near the start of your Airbnb House Manual Template. Ideally next to your welcome paragraphs. Try to include your phone, email and website address as the minimum. Although, you could also include Skype, WhatsApp, Facebook and more.
3. Emergency information
Remember that your guests have likely travelled a distance to stay at your rental and therefore, it's likely that they won't know what to do in an emergency. Ensure your Airbnb House Manual Template includes a page of emergency contact details. The local police, fire, hospital, pharmacy and so on. If possible, including phone and address details.
4. House rules
There's no need to go overboard, but it is important to include clear, concise House Rules in your Airbnb House Manual Template. These could be as simple as where to put the trash or to reiterate your smoking policy. If guests know what's expected of them at outset, they are far more likely to comply.
5. Check in and check out rules
Again, if guests have the information at the start of their trip, they are much more likely to be able to accommodate your rules. If you have a strict departure time, this is the place to list it. Equally, you may want to add a list of jobs that need to be completed before they can leave the property at the end of their stay.
6. Wifi and heating
Ever been on holiday and spent hours trying to get online? We've all been there and it's not the best first impression. A simple page in your Airbnb House Manual Template can instantly get rid of any teething problems.
7. Getting around
Dedicate a page or two to getting around the local area. Be sure to include all types of transportation from cars to public transport or walking. If you have to pay to park, try to make it stress-free for your guests by providing all the information they need to secure a parking spot.
8. Local recommendations
Now to the fun part. Once all the formalities are out of the way, don't forget to include things to do. Remember, it's likely the guests are visiting your location to experience local events, food, and sightseeing. Include a list of popular restaurants, takeaways, attractions, shopping, sports facilities, and events.
How to download a professional Airbnb house manual template
Now you know what to include in your Airbnb House Manual Template, all that's left to do is edit and print one.
To get access to our sleek, modern Airbnb House Manual Template, once you've made your purchase, you will be sent a link to access the template. You need to create a FREE Canva account to edit the template, but it's super easy-to-use and made for non-designers in mind.