Get 25% off your whole order. Discount applied at checkout.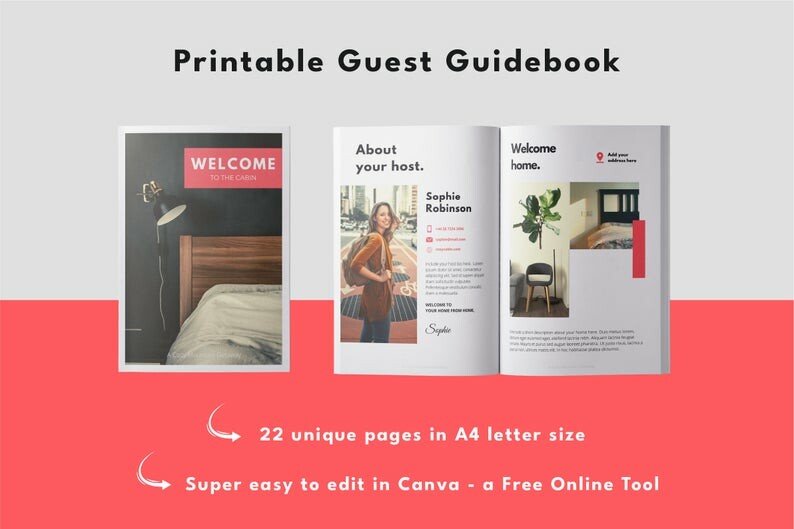 Airbnb Welcome Guide Template
Get 25% off your whole order. Discount applied at checkout.
This Airbnb Welcome Guide Template is designed to be easily edited and customised by anyone. No design experience is needed. The template is free to edit in Canva.
Airbnb Welcome Guide Template
✅ Easy to edit in a FREE Canva account
✅ Ready-made template
✅ Fully customizable
✅ No design experience needed
✅ Print in minutes
Just THREE SIMPLE STEPS to Create Your Professional Airbnb Welcome Guide Template:
1. Receive a PDF with a link to the template.
2. Edit the template in a FREE Canva account.
3. Save and print.
***********************************************
What are the benefits of this Airbnb Welcome Guide Template?
✅ Save time and money
✅ Looks professional
✅ Gives your customers all the information they need
✅ Delete the pages you don't need
✅ Duplicate the pages you love
✅ 22 pages of content including House rules, WiFi details, check-out checklist, and much more.

***********************************************
Looking for other Airbnb Templates & Printables?
Or visit the full Airbnb Welcome Book Template store.
How to create the perfect Airbnb Welcome Guide Template
How do I welcome a guest on Airbnb?
At Airbnb Welcome, we understand that's not always possible to greet guests in person. When you can't be there to welcome your guest and show them around the rental, an Airbnb Welcome Guide is the perfect way to welcome people staying at your Airbnb or other vacation rentals.
What is a guidebook on Airbnb?
When guests stay at your home, an Airbnb welcome guide or guidebook is a great way to welcome them. It's a kind of brochure that includes all the information they need to have a wonderful stay. From how to connect to the internet to the best steakhouse in town, your welcome guide should give the guest everything they need.
Why should I have a welcome guide?
An informative Airbnb welcome guide not only welcomes guests into your rental, but it also helps them feel at home. By offering all the information they need, they can relax and get started enjoying their trip without any hassle. What's more, by providing all the details they likely will need upfront, you won't need to answer as many calls or emails for extra information.
What should I put in my Airbnb welcome book?
Your Airbnb welcome book should include the following sections:
Introduction to the host and home
Your contact details e.g. phone, email, WhatsApp, and more
Emergency information such as the local police, hospital and fire departments
House rules. No need to go overboard but make sure everyone knows the ground rules.
Check-in and check out rules including what time to leave, what to do upon departure, and so on.
Wifi, heating, and cooking instructions so they don't have to hunt around the house for these vital bits of information.
Getting around the local area. Try to include all the various types of transport you have.
Local recommendations for food, drink, entertainment, sports, and so on. Try to be personal and offer your honest opinions on places.
Our Airbnb welcome guide includes all of these sections (and more). So you can really quickly get started, simply by editing the text to suit your rental. We've included a ton of beautiful images as well, so many of these can be used in your brochure too, without the need to update them.
How do I create an Airbnb welcome book?
It may seem like a daunting task to design your Airbnb welcome book, but it needn't be. Our Airbnb welcome guide template is cheap, easy-to-use, and designed for anyone (not designers nor techy people!) to use.
Simply purchase the template you like and you will be sent a link to the template in Canva. You only need a free online Canva account to quickly edit and print the design. It takes minutes and the result is a professionally designed Airbnb welcome book to wow your guests.
How do I write a good Airbnb profile?
While this technically refers to your Airbnb listing, it's useful to know when you are writing your Airbnb welcome guide too. A perfect Airbnb profile is personal, friendly, and honest. Tell them about yourself, your hobbies, why you love the location, what you like to do when you're staying in the rental, and include a smiling photo too.
What do you write in an Airbnb welcome guide?
As we've already mentioned, an Airbnb welcome book is designed to welcome your guest and to make their stay even smoother. It gives them all the information they might need during their stay. Our welcome guide template includes all the sections you need and can be quickly filled in with information specific to your rental.